Hroth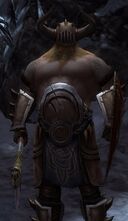 Classification
General
Hroth is found outside of the entrance to Frostmaw's Burrows with his companions: Kitta, Latham, Gareth, and several Festive Norn. He appears to be the group's musician.
Quests Involved In
Location
Skills
Dialogue
"My young cousins are fierce fighters, and if any Norn is destined to defeat Frostmaw the Kinslayer it will be one of their number. This hunt will bring them glory, and songs will be sung long after their deaths."
Notes
Community content is available under
CC-BY-NC-SA
unless otherwise noted.