Hulen Hairyback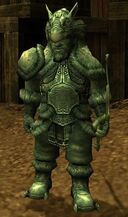 Classification
General
Hulen Hairyback is a weaponsmith.
If you give Hulen Hairyback the required amount of crafting materials, and pay Hulen Hairyback a fee in gold, Hulen Hairyback will craft you one of the weapons from his "menu".
Also, for a fee of 10 gold Hulen Hairyback can customize a weapon for you. This will increase its damage by 20%, but means that only the character and his/her heroes the weapon is customized for can use said weapon.
Location
Weapons Offered
Notes
To access this NPC you have to obtain the Risky Delver rank in the Deldrimor Title Track.
Community content is available under
CC-BY-NC-SA
unless otherwise noted.