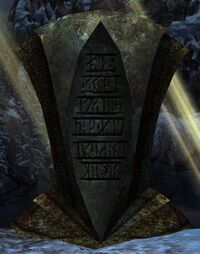 In Memoriam is a stone tablet that can be found in the far northeast corner of Jaga Moraine. It reads:
"In memory of the Norn who ventured into the bottomless pit to discover if it leads to the other side of the world:
Askel Cliffdiver
Gunolf the Mountain
Hardi Jotuncrusher
May they find glory and honor in the Mists should they never return."
Community content is available under
CC-BY-NC-SA
unless otherwise noted.