Istani Fire Oil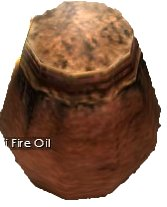 Description
A bundle item needed to fire the catapults at Chahbek Village. Three Istani Fire Oil spawn locations are provided, each of which can provide an infinite amount of oils. Because of this, you do not have to worry about accidently firing one of the catapults twice.
Use
An Istani Fire Oil bundle must be used on the Catapult Firing Levers in Chahbek Village to fire them. Click the levers twice each, once to load, and once to fire.
Trivia
Istani Fire Oil may be inspired by Greek fire.
Community content is available under
CC-BY-NC-SA
unless otherwise noted.