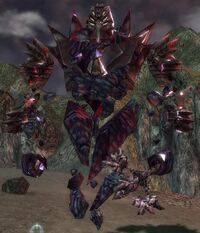 The Jade are magical constructs created by the Mursaat. They appear to be animated heaps of purple rock.
The Jade Armors and Jade Bows serve as the martial counterparts to the spellcasting Mursaat and can be found in the Southern Shiverpeaks and in Kryta during the War in Kryta. Jade Cloaks are relatively new, and have only been seen during the War in Kryta. They are greenish in color, and are elementalists, rather than a martial class.
Types
Notes
Trivia
Related Articles
Community content is available under
CC-BY-NC-SA
unless otherwise noted.