Justiciar Naveed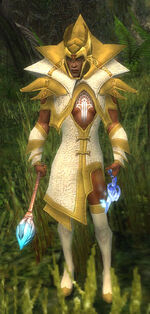 Classification
General
Justiciar Naveed can be found at the start of all of his related quests, in Alcazia Tangle, just outside Tarnished Haven.
Quests Given
Quests Involved In
Location
Skills
Dialogue
"We spend our entire lives with eyes cast forward, and yet fail to notice what lies at our feet. You never realize what you have until you lose it."
Notes
Trivia
"Naveed" is the Farsi word for "bearer of good news"
"Naveed" is very similiar for "Navee", which is the Hebrew word for "prophet"
"Naveed" is also similiar for "Navad", which is the Hebrew word for "nomad".
Community content is available under
CC-BY-NC-SA
unless otherwise noted.