Jwup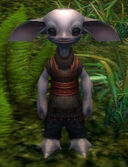 Classification
Dialogue
"Tengu, bah! They squawk like birds...distracting my research! I have been offering some of my trade to any who want to help silence them. If you return with 5 Quetzal Crests, I will be impressed enough to give you this:"
Collector Items
Jwup
Location: Alcazia Tangle, just outside of Tarnished Haven
Collecting: 5 Quetzal Crests
Community content is available under
CC-BY-NC-SA
unless otherwise noted.