Kachok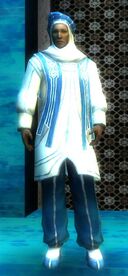 Classification
General
Kachok is the head scholar of the scholars at the Halls of Chokhin.
Quests Given
Location
Dialogue
"These papers must get to the scribes immediately, it's a matter of... oh, you're not one of the pages are you? My dissertation is ready for publication. Perhaps the princess would like to hear about it? She so used to enjoy my stories as a child."
Community content is available under
CC-BY-NC-SA
unless otherwise noted.