Kaineng Docks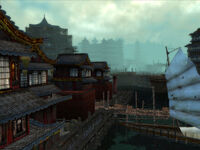 Basic Info
Neighbor(s)
The Marketplace
Map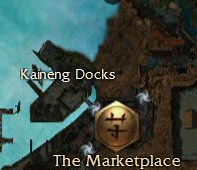 (click to enlarge)
Description
Kaineng Docks is an explorable area on the north-western coast of Cantha, directly north-west of the Marketplace. Kaineng Docks can initially be accessed from Seitung Harbor by talking to First Mate Xiang after receiving the quest A Master's Burden. For characters visiting from Tyria or Elona, this is where you can travel back to the first areas of the Factions campaign. Talk to First Mate Xiang in order to travel to Shing Jea Island.
Exits
Towns
Quests
The following quests start in Kaineng Docks:
Headmaster Greico: Mayhem in the Market (Primary Quest; Factions characters only)
NPCs
Notes
---
Community content is available under
CC-BY-NC-SA
unless otherwise noted.