Kapunk
Classification
Dialogue
"Well, hey there. You're tall...very tall indeed. What do you say we make a deal? There are some odd creatures out in those... what did you call them? Trees? Right, and I want to study them. If you bring me 5 Incubus wings for my research, I'll give up this bright, shiny:"
Collector Items
Location: Arbor Bay near a shrine to the west.
Collecting: 5 Incubus Wings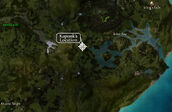 Community content is available under
CC-BY-NC-SA
unless otherwise noted.