Kasha Blackblood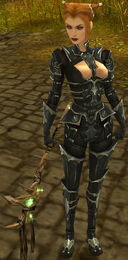 Classification
Kasha Blackblood is a profession trainer for Necromancers.
Quests Given
Location
Dialogue
"Greetings. I am Kasha Blackblood. I train necromancer apprentices [sic] in the art of Blood Magic; that is, stealing Health from enemies to feed oneself. Is there something you'd like to discuss with me?"
Skills used
She has 4 death magic, because her Bone Horror is level 5.
Kasha helps tend to the Sanitarium after the Searing.
Quests Given
Location
Skills used
Dialogue
"You don't look like the usual raving lunatics we tend to see around here."
Notes
In Pre-Searing, the Grawl behind her will sometimes overwhelm and proceed to kill her. When this happens you will need to re-zone from the area and talk to her again.
Community content is available under
CC-BY-NC-SA
unless otherwise noted.