Keeper of Light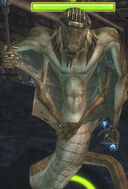 Classification
The Keeper of Light is one of the Forgotten collectors who award Forgotten items in exchange for a Book of Secrets, the Nightfall end-game reward item.
Location
Dialogue
"Ah, yes. I am sorry. I did not see you coming. I am blind, you see. My eyes were seared by the light of the First Sun. Though my sight is clouded, my magic is strong. I can help you on your path. If you bring me 1 Book of Secrets, I will craft an ancient magic for you... one, I think, that will show you what I cannot."
Collector Items
Keeper of Light
Location: Throne of Secrets
Collecting: 1 Book of Secrets
Community content is available under
CC-BY-NC-SA
unless otherwise noted.