Keeper of Steel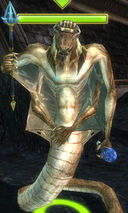 Classification
The Keeper of Steel is one of the Forgotten collectors who award Forgotten items in exchange for a Book of Secrets, the Nightfall end-game reward item.
Location
Dialogue
"I am the Keeper of Steel, once a mighty Lord among my people, now softened into this form that you see. Time and age wear upon us as well as on you, fragile human, but your strength is great. Perhaps, for you, I can remember my ancient craft just one last time.... If you bring me 1 Book of Secrets, I will give you this in return:"
Collector Items
Keeper of Steel
Location: Throne of Secrets
Collecting: 1 Book of Secrets
Community content is available under
CC-BY-NC-SA
unless otherwise noted.