Keeper of the Elements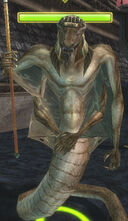 Classification
The Keeper of the Elements is one of the Forgotten collectors who award Forgotten items in exchange for a Book of Secrets, the Nightfall end-game reward item.
Location
Dialogue
"Once, many lifetimes before humans came to Elona, I was a priest of the Ancient Gods. Now, my powers are little more than broken prayers and fallen dreams. Even so, I believe that I still have enough magic in my soul to repay you for all the things that you have done. If you present me with 1 Book of Secrets, I will give you this in return:"
Collector Items
Keeper of the Elements
Location: Throne of Secrets
Collecting: 1 Book of Secrets
Community content is available under
CC-BY-NC-SA
unless otherwise noted.