Keeper of the Scythe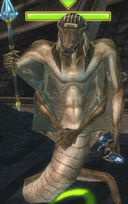 Classification
The Keeper of the Scythe is one of the Forgotten collectors who award Forgotten items in exchange for a Book of Secrets, the Nightfall end-game reward item.
Location
Dialogue
"I have never been fond of humans, despite our ancient purpose. But you... ah, yes. You have earned more than acclaim. You have earned respect. Therefore, I will help you where I would not ordinarily lift a finger for your kind. Bring me 1 Book of Secrets, and I will create for you a gift that will rival the treasures of kings. "
Collector Items
Keeper of the Scythe
Location: Throne of Secrets
Collecting: 1 Book of Secrets
Community content is available under
CC-BY-NC-SA
unless otherwise noted.