Kehtu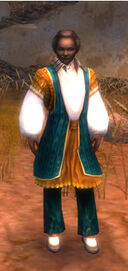 Classification
Dialogue
"My beautiful wife, Gamyuka... I love her so dearly. But, no matter how often I tell her she's beautiful, still she goes on wild quests to restore something she can never lose. Can you do an old man a favor, Sunspear? In the wilds you can find Sentient Lodestone [sic] that can be made into a mirror that will show a person's inner beauty, no matter her age. If you can find 5 Sentient Lodestones so that I might make this mirror for her, I will gladly give you anything I have:"
Collector Items
Kehtu
Location: Turai's Procession, northwest of the portal to Jahai Bluffs
Collecting: 5 Sentient Lodestones
Community content is available under
CC-BY-NC-SA
unless otherwise noted.