Kenohir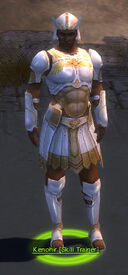 Classification
General
Kenohir is a Sunspear who is captured after the debacle of Gandara. After you rescue him, he appears in the Sunspear Command Post as a skill trainer.
Quests involved in
Location
Dialogue
"I am in your debt, stranger."
Skills offered
Any skills that are available as quest rewards are listed in bold.
Skill Trainers offer all skills that are offered by the Skill Trainer(s) listed before them.
Trainer
Warrior
Ranger
Monk
Necromancer
Mesmer
Elementalist
Assassin
Ritualist
Paragon
Dervish
Kenohir at
Command Post
Same skills as Medando in Yohlon Haven
See also
Community content is available under
CC-BY-NC-SA
unless otherwise noted.