Keotah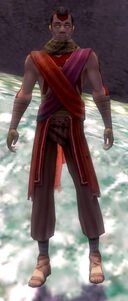 Classification
Dialogue
"Back when our people sailed across these seas, my vessel was set upon by a group of dangerous Saltspray dragons. We barely escaped with our lives, though one feisty bugger clamped down hard on my leg until i beat him senseless with an oar! It burns like fire on cold days, but at least I can walk on my own. It was on that day I vowed revenge on the Saltspray dragons for this wretched scar. Venture off and bring me 4 Azure Crests; your reward shall be:"
Collector Items
Keotah
Location: Silent Surf right outside the northwestern exit of Seafarer's Rest
Collecting: 4 Azure Crests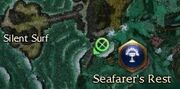 Community content is available under
CC-BY-NC-SA
unless otherwise noted.