Kunvie Firewing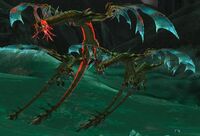 Classification
Map(s)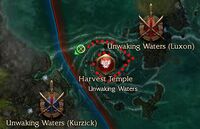 Location
Description
Kunvie Firewing is a Saltspray Dragon boss. She is accompanied by a few other dragons and the three of them can pack quite a punch.
Location
Skills used
Items dropped
Notes
If the party has henchmen, it's very important to force them to move frequently. Her elementalist damage can wipe out a clumped group of henchmen rather quickly.
There are several patrols and one group of hidden Oni in the area that are all not immediately obvious; if you go for the boss too quickly you can find yourself in trouble. A second group of Oni and a second group of Dragons may appear after you engage the boss.
If wiped, the party will always respawn near the entrance portal, meaning you have to run back all the way.
Kunvie is near the end of the spiral. Reaching and killing him means killing most of the enemies in this zone, bringing you close to a vanquish.