General
Lahtenda Bog is a low-lying, swampy explorable area in the south of Istan. The geography is very tight and its many twisting paths, low light, and a large size contribute to an appropriately eerie atmosphere. There is a shallow inlet in the west, and a tomb in the southwest, where the Sunspears once buried their dead.
Outposts & Cities
Blessings
NPCs
Quests
Lahtenda Bog
Creatures
Monsters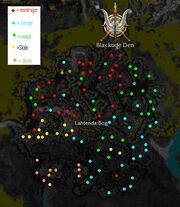 Animals
Bosses
Notes
The full exploration of Lahtenda Bog gives just over 2.5% towards the Elonian Cartographer title.
This area is called "Lahtendi Bog" on the collector's edition map.
Bounties
The Sunspear bounties available in Lahtenda Bog and which shrines they are offered at are listed in the following table. In Normal Mode, they are only available to characters whose level and Sunspear rank are equal to or less than those noted in the table. All bounties are available to all characters in Hard Mode.
To vanquish this area, you must kill between ~337-610 foes.
---
Community content is available under
CC-BY-NC-SA
unless otherwise noted.