Leon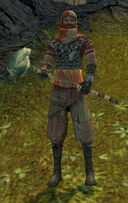 Classification
Dialogue
"My men and I were on our way to Mount Qinkai after a rather successful raid when we encountered a mob of Yetis. Those mangy hair bags wounded my men and stole our stolen provisions! We barely escaped with our lives. Those supplies were meant to sustain us for the next few months as we pillaged the eastern rim of Echovald Forest. Now they're all gone. Teach those walking carpets a lesson for me, will you? I want 5 Stolen Provisions and can return the favor with this:"
Collector Items
Leon
Location: Mount Qinkai right outside the northern exit of Aspenwood Gate (Luxon)
Collecting: 5 Stolen Provisions
Community content is available under
CC-BY-NC-SA
unless otherwise noted.