Librarian Kahnu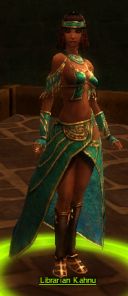 Classification
General
Librarian Kahnu is one of those in charge of taking care of the extensive library of Prince Mehtu the Wise.
Quests Involved In
Location
Dialogue
I don't have time to explain what I'm doing to simpletons like you. I'm quite surprised they let you anywhere near these valuable tomes. Now if you'll excuse me....
Community content is available under
CC-BY-NC-SA
unless otherwise noted.