Lieutenant Murunda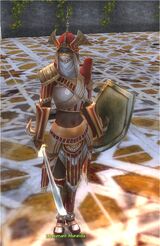 Classification
Map(s)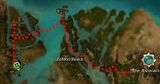 Location in Zehlon Reach
General
Early in the campaign, Lieutenant Murunda was sent by Prince Ahmtur to Istan to locate a master engineer to help construct siege machines to fend off raiders.
Later on, as the storyline progresses, she is the mission access NPC for the Dzagonur Bastion mission.
She also might be in a romantic relationship with Norgu, as hinted by the Reward Dialogue in the Calling the Order quest.
Oddly, her name is spelled in the game with two spaces between "Lieutenant" and "Murunda." This is echoed in some or all automatic parts of quests, such as objectives and the quest dialogue history, but never in text said by NPCs.
Quests Given
In Zehlon Reach
Location
Dialogue
In Zehlon Reach:
In Dzagonur Bastion:
In the Mirror of Lyss:
Notes
Community content is available under
CC-BY-NC-SA
unless otherwise noted.