Luxon Sentry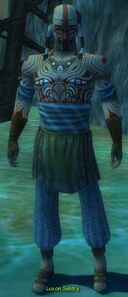 Classification
General
Luxon Sentries guard the gates to restricted areas in towns.
Location
Dialogue
To a member of the controlling alliance:
"Your alliance (alliance name) owns this town, would you like to enter the secret area?"
To all others:
"The (alliance name) alliance controls this area. I'd suggest making yourself scarce."
Community content is available under
CC-BY-NC-SA
unless otherwise noted.