Master Architect Wright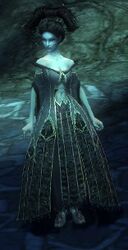 Classification
Dialogue
"The zu Heltzers have built most of what you see here. For ages, we have taken great pains and spared no expence to enchant the buildings and monuments throughout Echovald Forest. Since the coming of the Jade Wind, some of these structures have become corrupted; the once-beneficial protections now turn against us. I am gathering evidence to study why these enchantments have failed us, and I could really use some assistance. In exchange for 5 Stone Carvings, I will return the favor with this:"
Collector Items
Master Architect Wright
Location: House zu Heltzer
Collecting: 5 Stone Carvings
Trivia
Community content is available under
CC-BY-NC-SA
unless otherwise noted.