Melp the Harpooner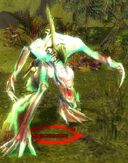 Classification
Description
Melp the Harpooner can be challenging to kill largely because of his Choking Gas skill which will interrupt casting. Other than that Melp isn't a huge threat.
Melp the Harpooner will typically come in a group with 2-3 Bog Skale and 2-3 Mergoyles. The skale will take the most work to dispatch because of their Life Siphon. The usual strategy is to kill first the mergoyles, then Melp and finally the skale.
Locations
Skills used
Community content is available under
CC-BY-NC-SA
unless otherwise noted.