This is an explorable area entry. For information on the location Minister Cho's Estate, see Minister Cho's Estate (location), for information on the mission Minister Cho's Estate, see Minister Cho's Estate (mission).
Description
Minister Cho's Estate is located in the North-West of Shing Jea Island. Formerly the estate of Cantha's Minister for Cultural Affairs, it is now controlled by rampaging Sickened and Afflicted. The area is located on a series of low cliffs, and contains a great many open-roofed buildings. There is a cave in the east, from which one may see into Zhengjo Temple. The northern edge of this area is a beach, where the Minister presumably once swam in his free time.
How to get here
To gain access to the explorable instance of this area you must first complete the mission of the same name. This will "unlock" the Ran Musu Gardens outpost, from where you can enter the area again to explore it.
Exits
Towns
Neighbour Areas
Locations / Objects of Interest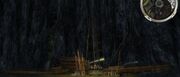 Wings of the Estate:

Buk Wing
Dah Wing
Dek Wing
Foh Wing
Creatures
Monsters
Bosses
NPCs
Animals
Notes
To receive credit for the Vanquisher title track in this area you must defeat 204-218 monsters in Hard Mode.
---