Molenin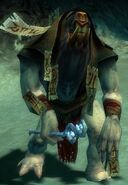 Classification
General
Molenin is a collector NPC in Sorrow's Furnace and in GW:EN he also appears in Umbral Grotto.
Quests
Dialogue
"Our oppressors have had their day in the sun. It is our turn to breath[sic] the fresh air of freedom. Aid me in my efforts to sabotage the Summit's machinery, and soon all of us will be free. I need 5 Enslavement Stones to carry out my plan. I can offer you one of the following items in exchange. What do you say? Are you with us, friend?"
Skills used
Collector Items
Molenin
Location: Sorrow's Furnace
Collecting: 5 Enslavement Stones
Notes
Trivia
Community content is available under
CC-BY-NC-SA
unless otherwise noted.