Mungri Magicbox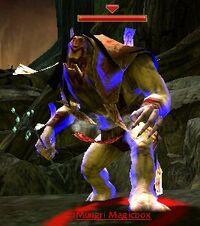 Classification
Map(s)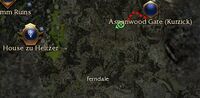 (click to enlarge)
Description
Mungri Magicbox is a dredge monk boss often found in a group with a Dredge Gardener which makes taking him down a very long process.
Location
Skills used
Items dropped
Notes
Mungri Magicbox can be quite difficult to defeat if a group is not prepared for him. Mungri and his patrol circle along a clockwise route near the edges of the clearing outside Aspenwood Gate. It is a good course of action to clear all patrols in the area before attacking Mungri Magicbox's patrol. It's also a good idea to kill the Gardener with his patrol first, otherwise the rate at which Mungri Magicbox's patrol heals may become overwhelming.
Spoil Victor is a good idea. Well of the Profane is also highly effective at shutting down Mungri, as all the heals from both Mungri and the Gardener (aside from the two heals of Boon Signet) are enchantments, which means Well of the Profane can create a window to take down the Gardener or Mungri while they are defenseless.
Community content is available under
CC-BY-NC-SA
unless otherwise noted.