Nicholas Sandford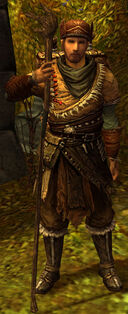 Classification
Map(s)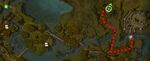 Location in Regent Valley
Nicholas Sandford is a Pre-Searing collector that exchanges various trophies or other stackable items for Gifts of the Huntsman. He is found along with Professor Yakkington in The Secret Garden in Regent Valley.
Location
Trophies collected
Nicholas Sandford collects a different item each day, changing his request at 7:00 UTC according to the list of items below. (This map shows 7:00 UTC in other time zones.)
| | |
| --- | --- |
| | Last update: Wednesday, 03:25 (UTC) |
Dialogue
Baked HuskCharr CarvingDull CarapaceEnchanted LodestoneGargoyle SkullGrawl NecklaceIcy LodestoneRed Iris FlowerSkeletal LimbSkale FinSpider LegUnnatural SeedWorn Belts
Notes
Trading notes
Nicholas collects one of 13 different items every day, following a pattern that repeats every 52 days.
He limits trading to 5 gifts per account each day.
Lore notes
See also
Community content is available under
CC-BY-NC-SA
unless otherwise noted.