Nicholas the Traveler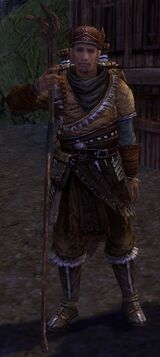 Classification
Map(s)
Broken due to the yak.

Nicholas the Traveler is a man who travels all over Tyria, handing out suspicious items to adventurers that are bold enough to collect the various items that he requests. After all, he never tells you what's in those items that he gives when he receives his requests. His location and the requested item changes every week on Mondays at 15:00 UTC and this is apparently due to the fact that he has nothing else to do with his life.
Current location
Nicholas the Traveler is now being updated on GuildWiki.
If he fails to appear, check to see whether you have an active quest that affects the foes spawning in the area or it could be due to a bad smell or maybe he just doesn't like you...
The yak broke the image upload for this area as he doesn't want you to see where they are. Note from a fanfic author: If you upload a photo - it will be removed. Other sites have the photos as this site is fanfic and doesn't necessarily need it.
Dialogue
"I miss my Mary... I want to go home..."
Notes
Each account is limited to no more than 5 gifts per week.
If you are in the same area as Nicholas when the change occurs... He and Yakkington will still appear, but he will not speak until you leave him in peace and come back.
See also
Trivia
Nicholas always travels with his hungry partner, Professor Yakkington.
The Traveler was Nicholas Sandford in Pre-Searing Ascalon, but now he appears in any explorable in the post era. It is up to us to find his hide-out and then get him something that might sound unusual.
More trivia is on GuildWiki

Historical note: This NPC was sadly added as part of the 4th Year Anniversary Update. We think it's due to the sympathy of nothing else to do.
Community content is available under
CC-BY-NC-SA
unless otherwise noted.