Olaf Olafson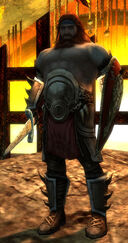 Classification
Olaf Olafson is a Norn hunter. He is the father of Olrun Olafdottir.
Lore
From the manual:
An archetypical Norn, Olaf is a warrior, a sojourner, and a hunter who prays to the spirits of nature and has been given the gift of transformation by the Bear Spirit. Like most Norn, he values freedom and individuality, and continually seeks to challenge himself. For Olaf, there is no greater point in life than to hunt and master the creatures of the wilderness. Olaf has seen many winters and hunted many beasts. As the seventh Olaf in his family line, he bears the name with great pride--pride that is diminished by the fact that he has only a daughter of his own. He is the last Olaf Olafson, seventh of that name in a direct line, and unless his deeds are legend, the name may be forgotten forever.
Locations
Skills used
Quests
Dialogue
Community content is available under
CC-BY-NC-SA
unless otherwise noted.