Olujime
Classification
Dialogue
"Aren't these geodes beautiful? I'm a stone carver, and I've never seen rocks such as these before. I'll tell you a secret. There's a girl named Sehyal who has caught my heart. When I travel back to her village, I want to give her a bouquet of flowers carved from these stones. I have two, but to giver her a dozen flowers, I need... well... a lot more. Can you help me? If you bring me 5 Geodes, I'll happily give you:"
Collector Items
Olujime
Location: Holdings of Chokhin, just inside the Halls of Chokhin
Collecting: 5 Geodes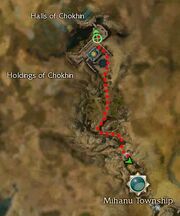 Community content is available under
CC-BY-NC-SA
unless otherwise noted.