Pathfinder Nolan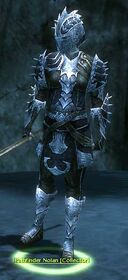 Classification
Map(s)


(click to enlarge)
Dialogue
"Take a whiff. You like that? It's my new fragrance. I'm going to call it, "Essence of Nolan." Or perhaps, "Smell the Love." I'm not sure which. Anyway, it's guaranteed to be a hit with all the ladies. Two drops behind each ear and every man within a stone's throw will be groveling at your feet. I'm ready to make my first batch, but I'm running low on Vaettir essences. Bring me 5 Vaettir Essences, and I'll give you one of these:"
Collector Items
Pathfinder Nolan
Location: Raven's Point, first level
Collecting: 5 Vaettir Essences
Community content is available under
CC-BY-NC-SA
unless otherwise noted.