Pehrub
Classification
Dialogue
"A feather hat! They'll be all the rage next season, I just know it. I have to be ahead of the pack. I must have that hat now! I can make it myself, but I need the feathers. You look like a stout combatant, capable of any task. Retrieve for me 3 Fledgling Skree Wings, and I will find something from last season you can have:"
Collector Items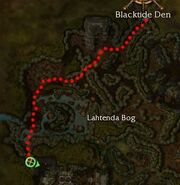 Pehrub
Location: Lahtenda Bog in the far southwest corner, just above the ruins.
Collecting: 3 Fledgling Skree Wings
Notes
On the minimap Pehrub is marked as "Skree Wing Collector".
Selling collector items obtained by exchanging Fledgling Skree Wings gives a better profit than selling to Merchants.