Professor Yakkington

Classification
Map(s)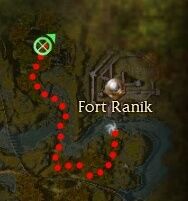 (click to enlarge)
In Pre-Searing, Professor Yakkington can be found alongside Nicholas Sandford in Regent Valley. Elsewhere he can be found alongside Nicholas the Traveler in a location that varies weekly.
Location
Dialogue
"*Yakkington sniffs at your pockets a bit, and then nuzzles his head underneath your hand for a pet.* "
Collector Items
Notes
Outside of Pre-searing, the Professor does not collect or trade with characters.
Trivia
The Professor always travels with his trusty partner, Nicholas Sandford.
According to Nicholas Sandford, Professor Yakkington is afraid of snakes and the dark, enjoys eating Red Iris Flowers, loves a good game of fetch the bone, and is fond of Mary Malone and her apples. Also, Yakkington's lucky number is 5.
Professor Yakkington was abandoned as a calf.
According to the Miniature Yakkington, Professor Yakkington is 6 foot 8 inches, and weighs about a ton.