Quansong Spiritspeak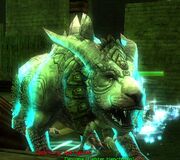 Classification
Map(s)

(click to enlarge)
Description
Quansong Spiritspeak is a Temple Guardian Ritualist boss surrounded by Temple Guardians.
Location
Skills used
Items dropped
Notes
He is aggressive towards the nearby Jade Brotherhood, and if he is allowed to patrol as close as possible to them they can be pulled together. If 2 or 3 of the Jade mobs are pulled, they will overpower him and his guards and allow you to get the cap (even with a running build!). However, you forfeit your chance of getting his unique drop.
With careful pullling, the Temple Guardians around him can be dealt with individually or per 2, so they don't pose much of a threat.
Trivia