Rai Kazu Remedies and Potions
Classification
General
Rai Kazu is a collector cashing in on the fear spread by the plague. He is selling Rai Kazu's Reptile Compound and is claiming it can both cure and prevent the plague.
Quests Involved In
Location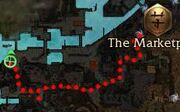 Skills Used
Dialogue
During Naga Oil:
"Step right up! Step right up! Ladies and gentlemen, boys and girls, Rai Kazu's Reptile Compound will cure all that ails you in these troubled times. Have the plague? Cure it. Fear the plague? Prevent it! Accept no substitutes! Just give me 2 Naga Pelts and I will give you the following:
Quotes
During Street Justice:
"They are here! The ones we were warned about!"
Collector Items
Rai Kazu Remedies and Potions
Location: Wajjun Bazaar
Collecting: 2 Naga Pelts
Community content is available under
CC-BY-NC-SA
unless otherwise noted.