Raiyi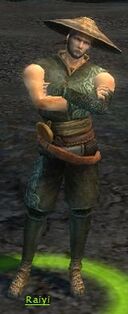 Classification
General
Raiyi is a citizen of Kaineng City. He randomly spawns along with Paoko and Mangjo, who seem to be his friends. Raiyi does not appear to be right in the head as he rambles about strange things. The three of them, like Ling, do not appear to serve any specific purpose.
Location
Dialogue
When spoken to, he uses the standard dialogue of Canthan Peasants.
The conversation is recorded in the corresponding section on Paoko.
Community content is available under
CC-BY-NC-SA
unless otherwise noted.