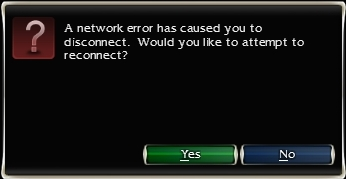 The Reconnect after disconnect feature allows players to reconnect after losing connection to the ArenaNet server. It allows reconnection within 10 minutes, enabling the player to continue where they left off at disconnection.
Effects of disconnect
Allows reconnection due to server issues, internet problems, or computer crashes (see below).
Will not reconnect if your party exits the map from which you disconnected.
Your party will not resurrect if the last-man-standing disconnects before triggering resurrection.
Effects at disconnection
Fellow party members see the message, "<name> has lost communication with the server".
Your character drops any Items it was carrying, such as Torches or the ashes from a Ritualist's Item Spells.
Your mini map is cleared of previous progress (all the red dot "ant trails" are lost).
Effects while disconnected
Your character stands completely still (as though you were away from the keyboard).

Your character can still be killed or healed.
Your character can still degen or regen and maintained enchants will continue (assuming enough Energy).

Your Friends List status changes to offline.
Effects after reconnection
All members of your party receive the message "<name> has restored communication with the server."
If a cutscene starts after you disconnect, when you reconnect, you won't be able to see it yourself. Instead, you'll see a black screen with a message letting you know that the party is watching the cutscene.
If you had some heroes who maintained some enchantments with you, the icons to cancel these enchantments disappear until you recast them. Also the minion counter of any heroes will disappear.
You do not automatically reconnect to the friends list server (see below).
Notes
Community content is available under
CC-BY-NC-SA
unless otherwise noted.