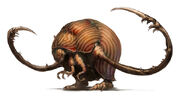 Rollerbeetles are a sub-species of insects found in Elona.
They are able to curl their body, forming a spheric shape, and to roll across the ground very fast.
Subtypes
Note: Madness Titans also have the appearance of a Rollerbeetle, but are titans, not insects.
You can only become a Rollerbeetle by participating in festival events or drinking special Transmogrification potions''
Community content is available under
CC-BY-NC-SA
unless otherwise noted.