Ronsu
Classification
Map(s)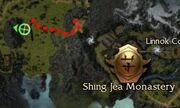 (click to enlarge)
General
Nation: Cantha
Ronsu is an Elementalist instructor for Shing Jea Monastery.
Quests Given
Quests Involved In
Location
Dialogue
If your character is an Elementalist:
"Welcome, young one. I am Ronsu, and it is my duty to help you to become a skilled Elementalist. Listen well to what I say, for though I was not appointed to the headmaster position, my skill is far greater than that of Headmaster Vhang."
If your character is not an Elementalist:
"How do you do? I am Ronsu, trainer of Elementalists. Alas, because you are not an Elementalist by profession, there is nothing I can teach you at this time."
Skills used
Community content is available under
CC-BY-NC-SA
unless otherwise noted.