Ruricu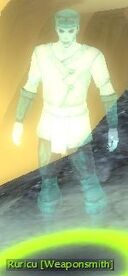 Classification
General
Ruricu is a weaponsmith in northern Crystal Overlook who will craft +5 energy weapons. He also crafts stance shields.
Location
Weapons Offered
Trivia
This NPC is named after Ruricu of Faith, one of the officers of the guild 치 The Spearmen 치 [치치치치].
Community content is available under
CC-BY-NC-SA
unless otherwise noted.