Description
Sacnoth Valley is an Explorable Area is in the southern part of the Charr Homelands. Unlike the open plains and beautiful forests that characterize most of the Charr Homelands, Much of Sacnoth Valley is composed of close valleys and shear cliffs. There are, however, a Worm-infested plain in the Southwest and a forest in the southeast- which is currently on fire, probably due either to the Titan Ignus the Eternal, or to the many Fire Elementals coming out from the nearby Catacombs of Kathandrax. Shamanist Charr have set up a stronghold in the north of the valley, probably one of their strongest fortresses. The geology of the Valley appears to be very suited to forming caves, judging by the two Dungeons nearby.
Exits
Explorable areas
Dungeons
NPCs
Bestiary
Monsters
Bosses
Pets
Quests
Sacnoth Valley
Notes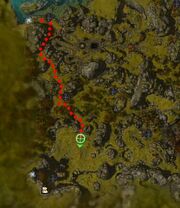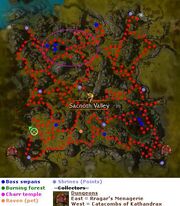 Community content is available under
CC-BY-NC-SA
unless otherwise noted.