Sark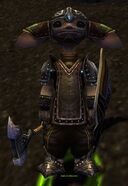 Classification
Dialogue
"Do you know what elemental dust is used for? Neither do I! But I plan to find out. My experiments so far have been...inconclusive, but there's power in that dust. You just have to know how to coax it out. I've lost three assistants and a golem already from...um...unfortunate mishap. Now I need more dust. Go find me 5 Piles of Elemental Dust and I shall reward you well."
Collector Items
Sark
Location: Catacombs of Kathandrax, first level, north of the entrance
Collecting: 5 Piles of Elemental Dust
Community content is available under
CC-BY-NC-SA
unless otherwise noted.