Shausha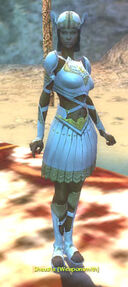 Classification
General
Shausha is a weaponsmith.
If you give her the required amount of crafting materials, and pay her a fee in gold, she will craft you one of the weapons from her "menu".
Also, for a fee of 10 gold she can customize a weapon for you. This will increase its damage by 20%, but means that no character other than the one it is customized for can use that weapon (or your heroes).
All weapons crafted by Shausha are requirement 9 and without any inscriptions.
Quests Involved In
Location
Dialogue
"Thanks. I thought I'd never get out of there."
Weapons Offered
The Weaponsmith Shausha can be found in the Command Post after finishing the quest Building the Base:The Interrogation
Community content is available under
CC-BY-NC-SA
unless otherwise noted.