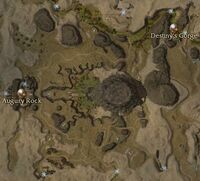 General Information
Area Name: Skyward Reach
Region: Crystal Desert
General Description: Skyward Reach is an area in the heart of the Crystal Desert. At the center of the area is a small lake with a large rock mesa overlooking it. This is the site of the final test of Ascension. The area includes four pairs of two-way teleporters, none of which are required for travelers.
Exits / Neighbour Areas
Outposts:
Bestiary
Monsters
Bosses
NPCs
Quests
Skyward Reach
Notes
Community content is available under
CC-BY-NC-SA
unless otherwise noted.