Snap Flamekrak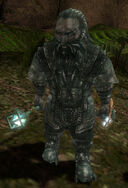 Classification
Dialogue
"I am hungry for power! Help me claim these tunnels as my own. When I take control, I will put up a huge sign that says, "Flamekrak Tunnel - 5 gold toll." Then I'll be rich as a king! Ok, maybe a prince. Well, at least a wealthy butler. Anyway, in exchange for 5 Stone Summit Emblems I'll give you:"
Collector Items
Snap Flamekrak
Location: Vloxen Excavations, first level, just north of the boss key
Collecting: 5 Stone Summit Emblems
Community content is available under
CC-BY-NC-SA
unless otherwise noted.