Sourbeak Rotshell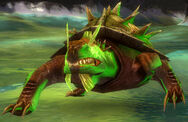 Classification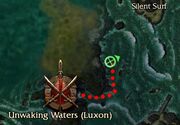 Description
Sourbeak Rotshell patrols an area of Silent Surf with a compliment of Rockhide Dragons and Saltspray Dragons.
Location
Skills used
Items dropped
Notes
Sourbeak is often found in combat with other enemies in the area, or can be lured to do so. This makes for an easy cap, but the experience gain is minimized.
Community content is available under
CC-BY-NC-SA
unless otherwise noted.