General
The Statue of Grenth, like all other statues of the five gods, is a place of worship found throughout Tyria. A Voice of Grenth can be summoned here by a player kneeling in front of the statue if the world has the Favor of the Gods. In explorable areas, all avatars grant Blessings to a player in exchange for some gold. In specific locations, the Voice of Grenth grants access to the Underworld.
Appearance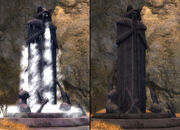 The appearance of a statue of Grenth depends on whether or not the world has the Favor of the Gods:
Favored - White mists flow from the base of the statue and its eyes burn brightly.
Unfavored - A lifeless statue, free of mist, with dark eyes.
Location
A Resurrection Shrine with a statue of Grenth can be found at the portal from:
Other locations:
A Resurrection Shrine with a statue of Grenth can be found at the portal from:
Other locations: